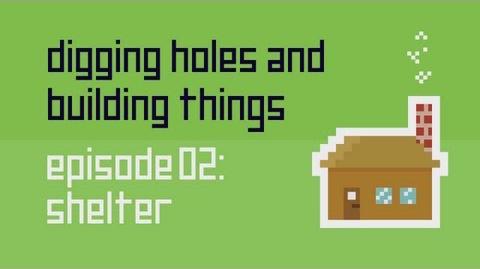 if you want to read the transcript of this episode, click this: Shelter/Transcript
This is the second episode of the animated series Dig Build Live
The Noob is starting to adjust to the new Minecraft area, getting wood and exploring. He starts chasing Pig around randomly but Dood tells him to build a shelter for protection, but Noob would rather chase around Pig until night comes. He is instantly surrounded by Zombies, Creepers, and Skeletons until getting shot by one. He respawns in the daytime only to get reminded by Dood about shelters and night dangers.
He tells Noob to get some of the dirt to build his house and he finishes by Nightfall, not witnessing the crazy stuff that goes on when players can't see. The next day he goes outside but only to get trolled by Lawrence the Skeleton, getting shot so Noob goes to get rid of all of the trees so nothing else can hide in the shade, then he goes in for the night. During the night a mysterious Greifer comes out and sets the forest near Noob's house unintentionally doing him a favor. The next morning he sees Lawrence lounging in a small pool & tries to get inside but hits his head and gets two arrows in his back.
Getting incredibly testy with the mobs Noob dirts up the pool, about to go inside he checks to see if anything else needs to be done. That night the Mobs set up a small theater outside of Noob's house and watch a Felix the Cat short. Due to the short night the Mobs left, after making sure Lawrence wasn't there Noob walks out only to see Lawrence is on the roof with a parasol. After more skeleton trolling Dood comes and brings torches to light up the area to keep mobs out.
Characters
Edit
Every time Lawrence shoots Noob it kills him in one hit, it could be a Hardcore server, but it takes 3 or 5 hits from a Skeleton to kill someone
Pig coughs up a butterfly WHOLE and still alive after eating it 2 days ago
Enhancements
Edit
Sheep can fall trying to go down a block
Skeletons/Mobs can carry Parasols to keep from burning
Pigs now run away when being run after
Naturally spawning Greifers
All the weird stuff that happens when players have no windows at night