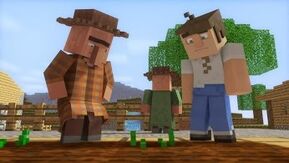 Fifth episode of the Dig Build Live series.
Description
Edit
Food doesent fall from the heavens, you have to tend your crop!
How 'bout a dehidrated chiken?
Dood gets very hungry and faints. When he wakes up, he is in a village. Now he has to lern farming, or he´ll be havin` tea with the bucket in the sky!